Cosmetic Dentist – Chicago, IL
Making Your Dream Smile a Reality
If you have dental imperfections that make you hesitant to let your smile show, know that you don't have to just accept how they make you feel. Cosmetic dental flaws can wear on your self-confidence and impact your comfort in important social and professional settings, affecting the way you live your day-to-day life. Our team of experienced cosmetic dentists in Chicago can help you imagine more for your smile by walking you through all of the custom-tailored dental treatments we offer, like veneers, teeth whitening, and more. Give our dental office a call to schedule a cosmetic dentistry consultation today!
Why Choose United Dental Centers of Chicago for Cosmetic Dentistry?
Convenient Take-Home Professional Teeth Whitening
Experienced Cosmetic Dentists
CareCredit Additional Financing Available
Veneers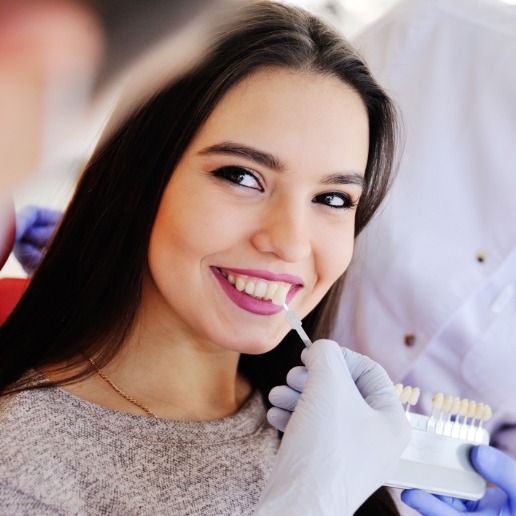 Veneers are considered a one-stop-shop cosmetic dental treatment because they can address several different types of flaws with a single treatment. These are restorations that are customized to fit over the visible surface of individual teeth to conceal discoloration, dental damage, slight misalignment, and gaps, making your smile appear bright and symmetrical. Based on your needs, you can place dental veneers in Chicago on only a few affected teeth, or you can have your entire smile transformed.
Teeth Whitening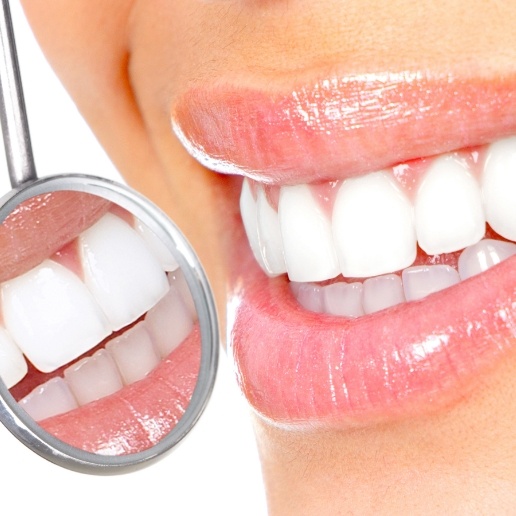 Are you tired of wasting your money on whitening strips and toothpastes that don't provide you with the dramatic results you're hoping for? We offer both in-practice and take-home professional Zoom! teeth whitening. Our in-practice treatment is overseen by your dentist and can brighten your smile by up to eight shades within a single, hour-long appointment, while our take-home kit can offer the same results within two weeks.
Metal-Free Dental Restorations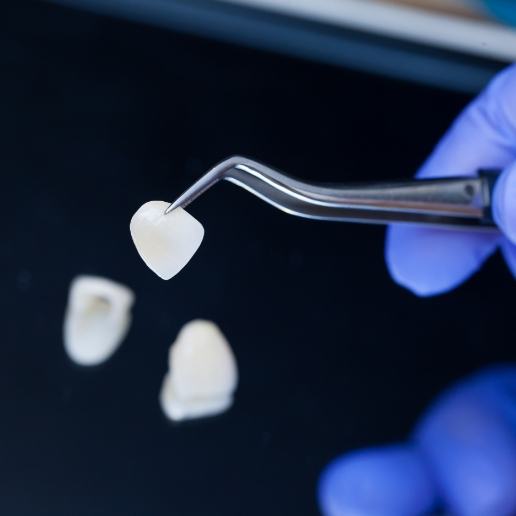 In the past, dental crowns and cavity fillings were crafted from metals. The materials caused several unwanted side effects, like dental sensitivity and tooth discoloration, as well as highlighted the affected tooth, making it stick out when patients would smile or talk. Today, we offer metal-free alternatives made from composite resin, zirconia, ceramic, and porcelain. They're all incredibly durable materials that are able to stand daily use and they seamlessly blend in with the rest of the smile for improved confidence.
Direct Bonding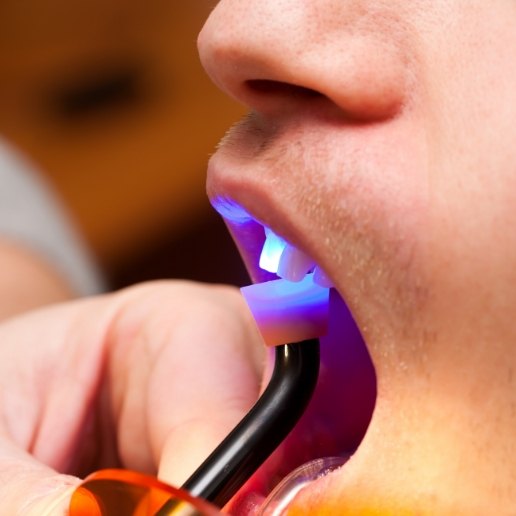 One of the most common cosmetic dental treatments that we offer is direct bonding because it's so cost-effective, fast, and minimally invasive. Using the same biocompatible material that we use to fill cavities, our cosmetic dentists can craft the missing portion of chipped or broken teeth to make them appear whole again. This treatment can typically be completed in a single day, depending on the extent of the imperfections you'd like addressed, and can also be used on discolored and gapped teeth to make the smile appear more symmetrical.
Gum Recontouring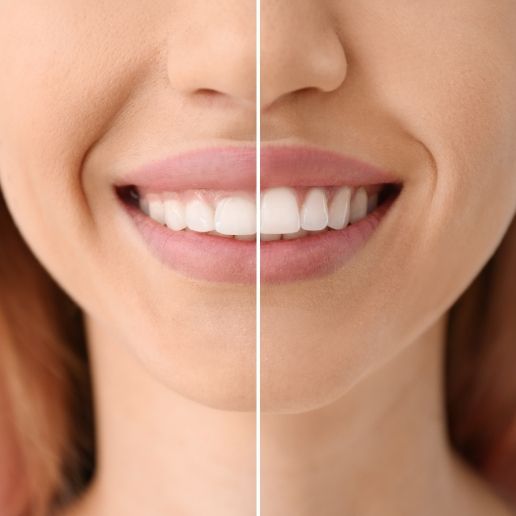 A common cosmetic dental issue that we address at United Dental Centers of Chicago is excessively gummy smiles, which is when there's a disproportionate amount of soft tissue to tooth. We can offer a permanent correction to this problem with gum recontouring, where we remove the overgrown gum tissue to reveal more of your dental structure, creating a more proportionate frame to your smile.
Smile Makeovers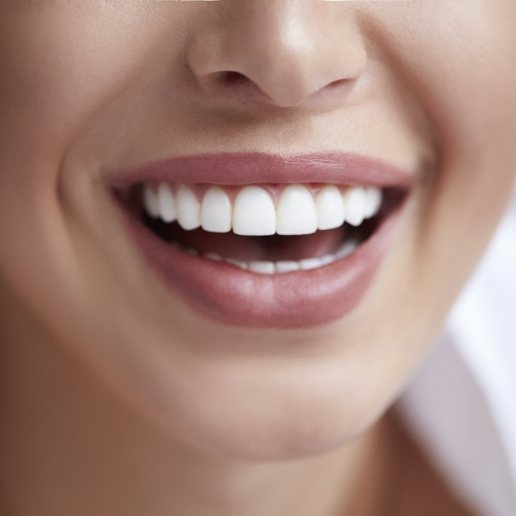 Dental imperfections like chips and damage, discoloration, and misalignment can gradually grind down your confidence, impacting your mannerisms and self-assurance in important social situations, like job interviews. Not only can this make you lose out on certain opportunities in life, but it can have an impact on your overall mental health. If you feel bogged down by cosmetic dental flaws, our team can help transform your grin with a custom-tailored smile makeover. These plans are specifically made to meet your needs, timeline, and budget for maximum convenience.
Cosmetic Dentistry FAQs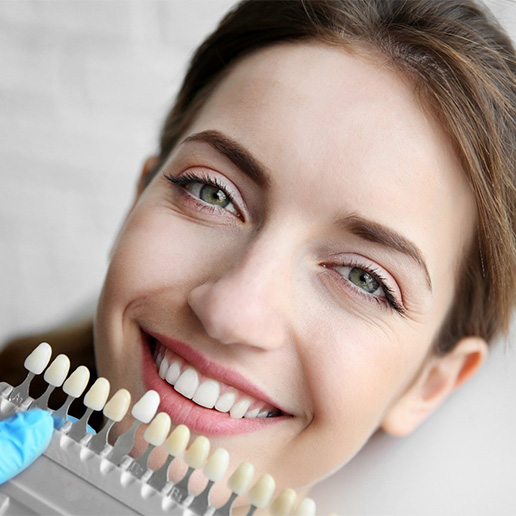 The path to a gleaming new smile looks different for everybody. As such, over the years we've received many different questions about our various customizable cosmetic dental treatments. We've answered some of the queries that we've heard particularly often in the following FAQ section. Of course, even after reading this entire page, there may still be one or two things you want to know about cosmetic dentistry; please call our team and tell us what's on your mind!
How Do I Know If I Need Cosmetic Dentistry?
Cosmetic dentistry is elective, so it's entirely up to you whether you want to have it done. It could be worth considering if:
You feel less than confident about the way your smile looks for any reason.
There are stains on your teeth that you have been unable to remove with store-bought whitening products.
You notice any damage on your teeth, such as chips and cracks.
You are exploring ways to look younger.
If you decide that you're interested in cosmetic dentistry, you can begin the process by setting up a consultation with our team. We'll explain the many treatments available and how they can be used to create the smile that you want.
How Can Cosmetic Dentistry Change Your Life?
A smile that you're truly happy with is often its own reward, but it can be more beneficial than you realize:
Cosmetic dentistry patients are often more likely to practice good oral hygiene because they want the results of their treatment to last as long as possible.
You may feel more confident about your grin once the flaws that made you reluctant to show people your teeth are gone.
You'll be able to leave a more positive first impression at important events such as job interviews.
How Long Does Cosmetic Dentistry Last?
When it comes to gum recontouring, the results will typically last for the rest of your life. Other cosmetic procedures have more finite lifespans, and some are longer-lived than others. You can usually expect a veneer or a metal-free crown to last longer than teeth whitening or direct bonding.
Good maintenance can make all the difference in preserving your beautiful new grin. Make sure you're practicing all the right habits, like brushing every day, limiting your intake of stain-causing beverages, and using tools instead of your teeth to open packages.
Is Cosmetic Dentistry Covered by Insurance?
Normally, no. Not every plan is the same, but for the most part, dental insurance won't pay for any kind of cosmetic treatment. However, some procedures that improve appearance – such as metal-free restorations – might be eligible for coverage if they improve oral health in some way, such as by protecting a broken or decayed tooth. You can always reach out to your dental insurance company if you want to double-check on your benefits, and our team can go over your plan with you if there are any details that you're unsure of.