Dental Implants – Chicago, IL
A Lifelike Replacement for Missing Teeth
Dental implants have quickly risen to the top choice of patients to replace their missing teeth as well as a popular recommendation of dentists everywhere. This is because unlike traditional restorations, dental implants are able to replace both the visible and root structures of missing teeth. Providing a natural look and feel, dental implants in Chicago are able to boost your confidence and eliminate awkward side-effects like slipping and shifting replacement teeth. Contact our dental team at United Dental Centers of Chicago today to schedule a consultation and learn whether you can benefit from this modern treatment.
Why Choose United Dental Centers of Chicago for Dental Implants?
We Place & Restore Dental Implants
Additional Financing Available Through CareCredit
Team of Dentists with Collective Decades of Experience
What are Dental Implants?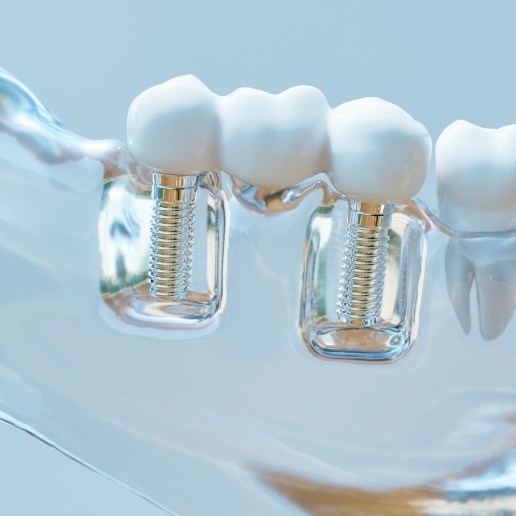 Dental implants are small titanium posts that are surgically placed below the gumline and into the jawbone to restore the missing root structure of teeth. Due to their biocompatible traits, they're able to naturally fuse with the bone structure through a process called osseointegration. Once this occurs, the restoration will have a strong, unwavering foundation to be attached to, mimicking the natural appearance and function of teeth.
The 4-Step Dental Implant Process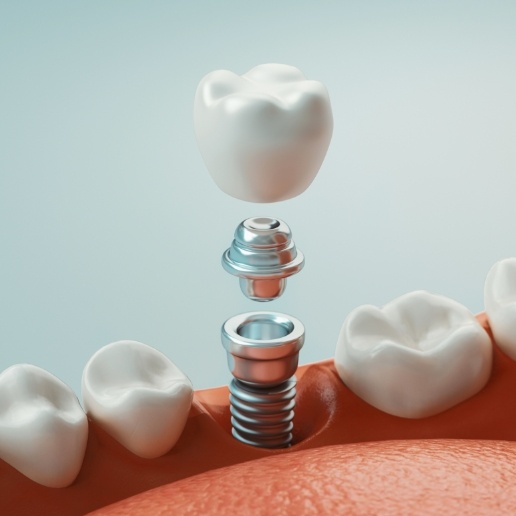 Other dental practices sometimes need to send patients out to a local specialist to undergo their dental implant surgery. However, we can complete your entire procedure in-house, allowing you to receive treatment from a team you already know and trust! During your consultation, we'll walk you through all of the steps toward getting your brand-new pearly whites in more detail. In the meantime, here are the main parts of the dental implant process and what you can expect when renewing your smile.
Initial Dental Implant Consultation
The first step is always the initial consultation. During this visit, our team will evaluate your oral health, review your medical/dental history, discuss your smile goals and concerns, and determine if dental implants are a viable option for you. Even if you aren't currently eligible, we may be able to provide certain preliminary procedures to prepare you, such as bone grafting, gum disease treatment, or tooth extractions. Once you're back to oral health, we can schedule your appointment for a later time.
Dental Implant Surgery
Receiving your dental implant will involve minor surgery. Firstly, we'll numb your mouth completely with a local anesthetic to keep you comfortable and pain-free. You might also be provided with sedation dentistry so you can remain relaxed throughout your visit. We'll then make an incision in your gums so we can access your jawbone. Your dentist will then place your implant precisely in its pre-planned location and angle before suturing your gums around it. We'll place a protective cap to keep it safe while you heal for the next few months.
Dental Implant Osseointegration & Abutment
During your recovery, your jawbone will go through a process called osseointegration—where the bone fuses with the dental implant. This is what will create the superior stability needed for natural-feeling restorations, allowing you to smile and eat without worrying about your new tooth moving out of place. This process should take around three to six months to complete, after which you'll come back to our office to have your abutment placed—a small metal connector that links your restoration to your implant. You'll then be sent home to recover for a few weeks.
Delivery of Dental Implant Restoration(s)
After we've finished fabricating your new tooth, you'll return to us to receive your personalized crown, bridge, or denture onto your abutment. We'll double-check that your bite is correct and that the results are satisfactory for you. If so, you'll be free to leave and make the most of your renewed smile for decades to come!
Benefits of Dental Implants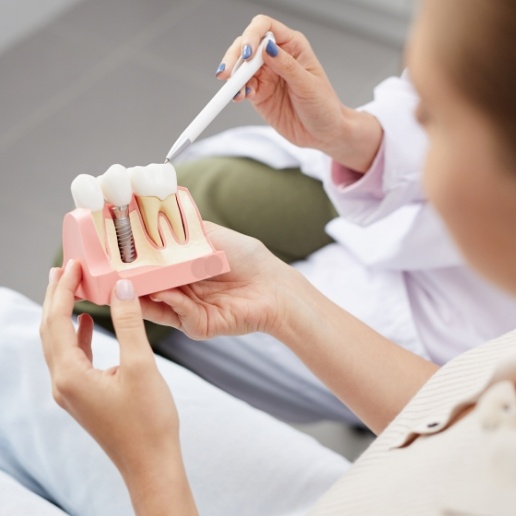 When you invest in dental implants in Chicago, you'll be able to enjoy countless advantages, including:
Up to 80% restored bite power
Ability to eat a wider variety of foods
No need to alter your existing, natural teeth
Boosted confidence due to prosthetics that look and feel more natural
Prevention of jawbone deterioration
Preservation of your facial structure
Who Dental Implants Can Help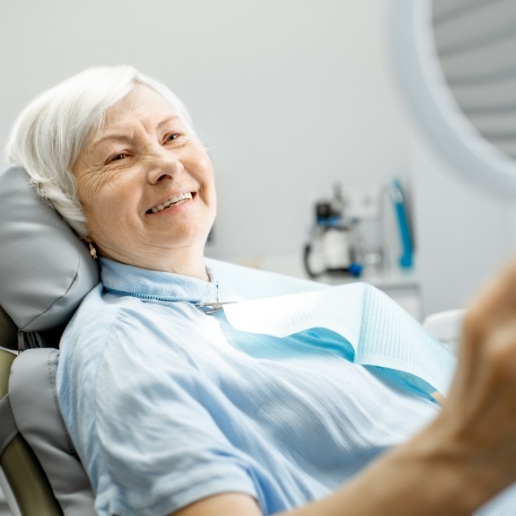 Dental implants are a versatile treatment that can help most patients who are missing one or more teeth. The best way to learn whether you're a candidate is to visit us for a consultation. Based on our findings, we may recommend any of the following treatment paths to restore your smile.
Missing One Tooth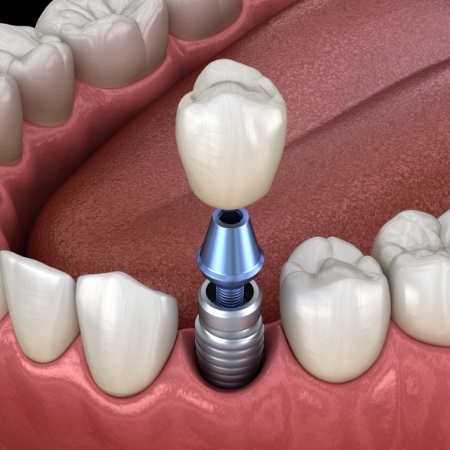 To replace one tooth, we can secure a single dental implant below the gumline and into the jawbone. This will secure a single, free-standing dental crown within your mouth to complete your smile and fill the gap left by your missing tooth.
Missing Multiple Teeth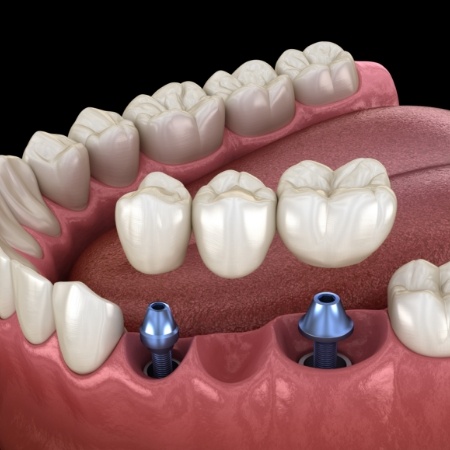 Instead of needing to alter your natural, healthy teeth to secure a traditional bridge, we can place two dental implants on either side of a gap in your smile left by two or more teeth. These will anchor the bridge in place to complete your arch.
Missing All of Your Teeth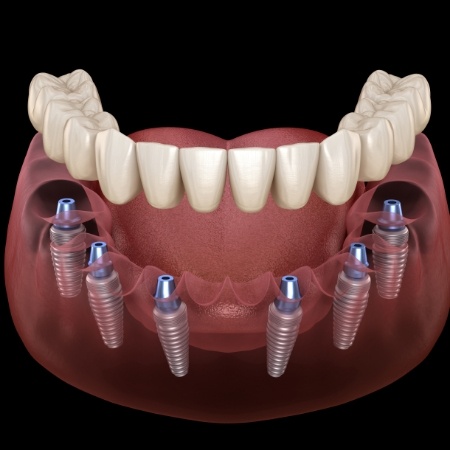 If you're missing an entire row of teeth, we can secure anywhere from four to eight dental implants into your jawbone and along your arch. These will anchor a full denture within your mouth, eliminating any shifting or slipping that could occur with traditional dentures.
All-on-4 Dental Implants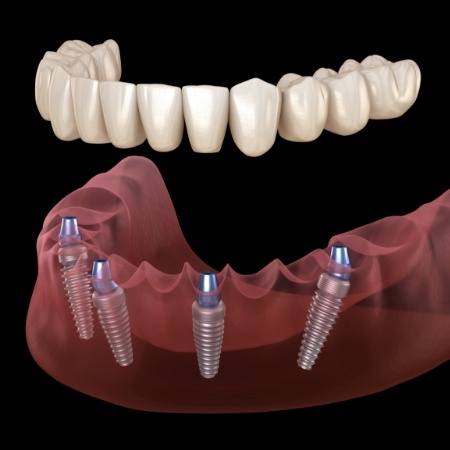 For patients who may require a bone graft before they can undergo dental implant surgery, we also offer All-on-4 implant dentures. This procedure allows us to harness the power of the densest areas of your jawbone, strategizing our placement to minimize the chances of you needing the additional preparatory bone graft procedure.
Understanding the Cost of Dental Implants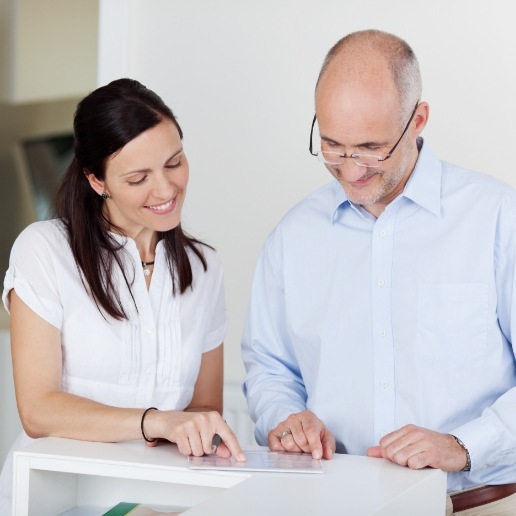 Every dental implant procedure that we do is customized to meet our patients' individual needs, which means there's not a price that we can provide you with up-front. This is because there are several different factors that will come into play when determining the cost of dental implants in Chicago, including the need for preparatory procedures, how many teeth you're missing, and what prosthetic you require. Once we've had a chance to iron these details out, we'll provide you with a cost estimate so you know exactly what to expect.